Welcome to Eden Training
Welcome to Eden Training, an exciting work based training service delivering quality training in Early Years and Business Skills.  This includes Early Years (Childcare), Playwork, Management and Team Leading qualifications.
We offer education and training for all ages at levels 1 to 5. As a Nova consortium member we hold a contract for funding through the Skills Funding Agency and Local Authorities in order to fund the training for eligible groups. Click here to find out more about Funding .
For news about changes in funding for level 3 and 4 qualifications and the new 24+ Advanced Learning Loans  click here
If you are 16-18 you can leave school and undertake a fully funded Apprenticeship – and get paid while you learn.
We also have an exciting, affordable package if you are not eligible for funded training working closely with Early Years Partnerships (Local Authorities), to deliver levels 2 to 5 and the Transition Award.
Have you thought about a career in childminding? 'Understand how to set up a home-based childcare service' is the course for you! (also known as CYPOP5) This is the recommended course for prospective and new childminders in England and Wales and also covers the requirement for nannies.
Alternative Education schemes are an opportunity for Secondary Schools to select young people from years 10 and 11 who may be more suitable to continue their learning via a vocational route.
We also deliver flexible Paediatric First Aid training at a very competitive cost.
Whatever course is right for you we will offer knowledge and support that is accessible and designed around your individual needs to provide a positive training experience.
All the staff at Eden Training are occupationally qualified with practical experience in a variety of workplaces, which ensures that all training is delivered to appropriate high standards in a positive way.
If you would like more information please click here to find out how to get in touch . You can download our brochure here.
If you are an employer and want to know what's in it for you click here .
There are a lot of benefits for learners training with Eden Training Ltd. We work with you and plan an approach to your training that is right for you. Talk to us today. You will never look back.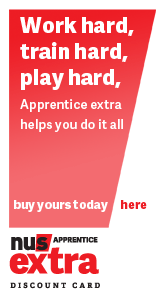 LATEST NEWS
WHAT's IN A NAME?
At Eden Training Ltd we are proud of our name and our reputation. Don't get confused by other providers with similar names ... read more
FREE LEVEL 1 AND LEVEL 2 TRAINING FOR 16 - 18 YEARS OLDS
We have Funding for Level 1 and Level 2 qualifications in Customer Service, Business & Administration, Caring for Children. Training is fully funded for anyone aged 16 to 18 signed up before the end of November 2013. ... read more
APPRENTICESHIP GRANT FOR EMPLOYERS OF 16 TO 18 YEAR OLDS
Employers you could be eligible for a £1500 Apprenticeship Grant. It's called Age 16 to 24 and aims to support businesses to recruit individuals aged 16 to 24 into employment though the Apprenticeship programme. ... read more
ACCREDITED SAFEGUARDING LEVEL 3 TRAINING
This course is accredited by CACHE and is great for ensuring Safeguarding knowledge is kept up to date. ... read more
24+ ADVANCED LEARNING LOANS
24+ Advanced Learning Loans help you to pay the tuition fees charged by colleges and training organisations. The Skills Funding Agency have announced that there will be no direct funding for people over 24 who wish to take a level 3 qualification but they will now provide loans.
Most learners aged 24 and over, studying at level 3 and above, will qualify for these new loans. It's easy to apply, your household income isn't taken into account and there's no credit check. You won't have to pay anything back until your income is over £21,000 a year. ... read more
HIRE OUR TRAINING ROOMS
Eden Training has training / meeting rooms for hire ... see details
Take a look at our brochure...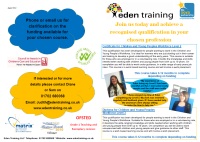 MORE NEWS ... click here